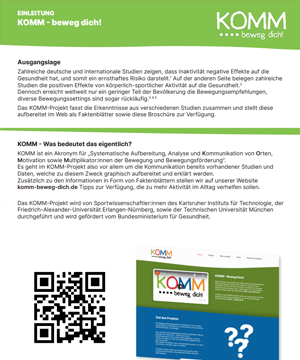 Quellen
1 González, K., Fuentes, J., & Márquez, J. L. (2017). Physical inactivity, sedentary behavior and chronic diseases. Korean journal of family medicine, 38(3), 111.
2 Reiner M, Niermann C, Jekauc D, Woll A. Long-term health benefits of physical activity: a systematic review of longitudinal studies. BMC Public Health 2013; 13(1):813.
3 Suggested citation. WHO guidelines on physical activity and sedentary behaviour. Geneva: World Health Organization; 2020. Licence: CC BY-NC-SA 3.0 IGO
4 Schmidt, S.C.E; Anedda, B., Burchartz, A., Oriwol, D., Kolb, S., Wäsche, H., Niessner, C., Woll, A. (2020). The physical activity of children and adolescents in Germany 2003-2017: The
MoMo-study. PLoS one, 15(7), e0236117.
5 Rütten A, Pfeifer K (Hg). Nationale Empfehlungen für Bewegung und Bewegungs-förderung. Erlangen: FAU Erlangen-Nürnberg; 2016.