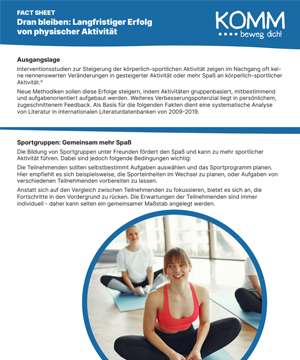 Quellen
9 Plotnikoff, R.C.; Costigan, S.A.; Williams, R.L.; Hutchesson, M.J.; Kennedy, S.G.; Robards, S.L.; Allen, J.; Collins, C.E.; Callister, R.; Germov, J. Effectiveness of interventions targeting
physical activity, nutrition and healthy weight for university and college students: A systematic review and meta-analysis. Int. J. Behav. Nutr. Phys. Act. 2015, 12, 45
10 Luszczynska, A., & Schwarzer, R. (2005). Social cognitive theory. Predicting health behaviour, 2, 127-169.
Datenquelle/ Publikation:
Klos, L., Feil, K., Eberhardt, T., & Jekauc, D. (2020). Interventions to Promote Positive Affect and Physical Activity in Children, Adolescents and Young Adults—A Systematic Review.
Sports, 8(2), 26.
Datenhalter: –
Aktualität: Systematische Literaturrecherche in internationalen Datenbanken 2009-2019 | Altersrange der Zielgruppe 4-23 Jahre
Regionalität: Recherche weltweit, internationale Datenbanken
Verantwortliche/r Autor/in für das Faktenblatt: Leon Klos und Darko Jekauc
Hinweise für vertiefende Literatur:
Jekauc, D.; Brand, R. Editorial: How do Emotions and Feelings Regulate Physical Activity? Front. Psychol. 2017, 8, 1145.
Bildnachweise
https://www.pexels.com/de-de/foto/gesund-frau-sitzung-club-3984338/
https://www.pexels.com/de-de/foto/gesund-frau-smartphone-surfen-4428991/
https://www.pexels.com/de-de/foto/frau-im-roten-tragershirt-und-in-den-schwarzen-shorts-die-auf-spurfeld-laufen-3763996/